Sting parties with old friends in Newcastle...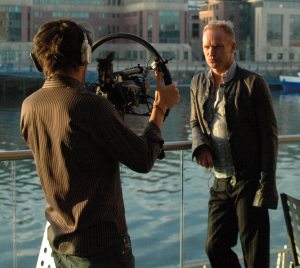 In early May Sting came home to Newcastle to receive an honorary doctorate in music from Newcastle University. He took the opportunity of this relatively rare visit to Tyneside to host an intimate party and concert for around 130 friends and family at the Baltic Arts Centre on the evening of May 5. Invited to the party were ten lucky UK based Sting.com members and they were to witness a breathtaking performance, his only planned UK show this year.
Sting arrived in Newcastle from the USA on May 3, and 6.15pm the following evening found him at the Sage Gateshead putting his newly assembled band through rehearsals. His old Last Exit colleagues Gerry Richardson, John Hedley and Terry Ellis augmented by drummer Paul Smith formed the core of the band under the musical direction of the former Newcastle Big Band leader Andy Hudson. Add to this a seven piece brass section and the tiny rehearsal room in the state of the art Sage centre soon became very intimate indeed.
The rehearsal lasted over three and a half hours, well over double the usual length of a concert, and was solid work for all involved. Sheet music, chord charts and arrangements were passed around by Gerry and it was a very different experience to see Sting's face etched in deep concentration as he read while playing, working out his parts for the each of the songs.
A number of the songs rehearsed were played several times - including 'Little Wing' which they ran through four times and 'Dock Of The Bay' which they performed three times. While 'Dock Of The Bay' got the repeat treatment in order to work out some brass arrangements it seemed to us as though 'Little Wing' was performed several times just for the sheer fun of it! The look of pleasure on Sting's face at the end of 'C-Jam Blues' and his comment, "I enjoyed the hell out of that!" summed up his feelings nicely. Andy Hudson's energetic conducting of the brass section had Sting confessing 'That's where I got my 'jump' from you know. I only just realised it having seen you do it again!'
Two further songs were performed at the rehearsal which didn't make it through the final set - 'Ain't No Sunshine' and 'My One and Only Love' - and the rehearsal finished with 'Need Your Love So Bad' around 10pm. A soundcheck and further rehearsal was pencilled in at the Baltic Arts Centre the following evening a couple of hours ahead of the doors opening for the party.
May 5 saw the lucky Sting.com members arriving in Newcastle throughout a pleasantly warm Spring afternoon and gathering at the Copthorne Hotel on the picturesque Quayside. As anyone who has been to Newcastle recently will tell you, the Quayside is now one of the most desirable places in the city with new hotels, luxury developments, the Sage building, the spectacular Millennium footbridge and the Baltic Arts Centre all within a short walking distance. In other words, plenty to keep everyone occupied until the evening's fun started.
The guests at the party were mainly Sting's immediate family and his old musician friends from Newcastle in the seventies. Some notable attendees whose names will ring a bell with anyone familiar with Sting's career included journalist Phil Sutcliffe (who introduced Sting and Stewart Copeland many moons ago), photographer Rik Walton (responsible for nearly all the existing publicity shots of Last Exit and the Newcastle Big Band) and Dave Wood (founder and owner of Impulse recording studios where Sting and Last Exit made their first recordings). Those present at the Baltic represented a who's who of the 1970's Newcastle's music scene. The venue - the Riverside Restaurant at the Baltic Arts Centre - had some displays featuring photos, artwork and memorabilia from the Newcastle Big Band and Last Exit's trips to jazz festivals in Pau and San Sebastian.
The evening started with food and drinks including some good northern fare of fish pies and bangers and mash - before the events proper got under way with the Gerry Richardson Trio playing a too short three song set that comprised of 'Comin' Home Baby', 'Lady Day & John Coltrane' and 'Mission Statement' (check out
www.gerryrichardson.com
for more information). During the set Sting could be seen 'getting down with it' near the front where he was stood behind a bunch of Sting.com members.
Andy Hudson, the MC for the evening then introduced the 'members of the orchestra' - Gerry Richardson (Hammond organ), Paul Smith (drums), John Hedley and Terry Ellis (guitars), Pete Volpe (Trumpet), Don Fairley, Ray Chorter and Brian Chester (Trombone), Cormac Loane, Pat Crumley and Garry Linsey (Saxophones) before Sting was announced and walked forward to join the others and take his bass.
The band kicked proceedings off with a cover of Bill Wither's 'Friend Of Mine', an apt tune considering the constituency of the audience. Sting then prefaced the next tune by saying that one of the earliest songs he and Gerry could remember covering was Graham Bond's 'Springtime In The City'. Third on the set list was a track that always features whenever Sting is requested to name his top ten favourite songs - 'Dock Of The Bay' - during which the audience was requested to provide the famous whistling accompaniment.
John Hedley shone with some searing guitar work during a tremendous cover version of Hendrix's 'Little Wing' - a staple of Sting's 'Nothing Like The Sun' tour from 1988 but not heard performed by him since. It was then time for Sting to remember the Newcastle Big Band as he paid tribute to some of band members that were no longer with us, including Nigel Stanger, who Sting declared a musical genius. Germaine Stanger then joined Sting on stage to perform rousing versions of the classics 'You Can't Take That Away From Me', 'I Got It Bad And That Ain't Good' and 'Mean To Me' which brought about one of the biggest cheers of the night.
Other high points soon followed though as the band performed a terrific version of Miles Davis' 'So What' before turning their attentions to Willie Dixon's classic blues track 'Seventh Son', and Duke Ellington's 'C Jam Blues'.
Ex-Newcastle College students Andrew Mockler and Hannah Taylor were then invited up on stage to join Sting and their former teacher Gerry and reprise their roles from 2004's Variety Club dinner at which Sting was honoured. Andrew and Hannah had previously stood in as guest vocalists for Sting at the dinner after impressing him at a workshop for music students when he'd fallen foul of a bout of laryngitis before the dinner. Sting had invited the pair to guest with him again only an hour earlier, and despite what must have been a stomach churning wait both were delighted to reprise their roles.
Andy Hudson then orchestrated both the musicians and the audience through a rousing version of one of the Big Band's staples - Jimmy Forest's 'Night Train' - which brought the evening's main set to a close. But we all wanted more and the band duly obliged with more blues as they tore through 'Need Your Love So Bad'.
The musical entertainment may have been over but Sting and Trudie found time to wander from guest to guest spending some time with anyone that wanted to chat to them or have their photographs taken as a reminder of a wonderful night on Newcastle's Quayside. All present left in the hope that Sting's promise to come back some time and do it all again comes to fruition!
Use the link below to view photos from the rehearsal at the Sage Gateshead.