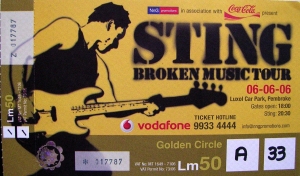 Sting promises to be back after great performance
Thousands of people flocked to the Luxol Grounds in Pembroke for what was billed as the biggest concert to be held in Malta to date, Sting's date forming part of his Broken Music Tour.
Although the weather on the night was quite chilly, the crowd - estimated at around 18,000 persons - soon warmed up as the international superstar started to delight with hits from his own repertoire and that of his former band The Police.
Sting took the stage wearing a dark suit and holding a guitar and together with the other three members of his band started to play one of his most renowned hits, 'Sos', followed by 'Walking on the Moon'.
He then addressed the crowd in Maltese, albeit reading from a paper, and augured "Il-lejl it-tajjeb" (good evening) to all those present.
The people were soon applauding and singing along, while those who were sitting down were soon up on their feet to cheer Sting, who then went on to sing 'Englishman in New York'.
The crowd however had an even better reception when the artist and his band performed two of his greatest hits, 'Fields of Gold' and 'Roxanne'.
The stage, which was practically bare except for a number of grates on which light effects were being created, was in this case lit up with the colours that matched the lyrics of these songs, namely gold and red.
The band left the stage following the performance of the latter song, but the people had not yet had enough as they screamed for more.
Sting obliged, and returned on stage to sing 'Desert Rose' and 'Every Breath You Take' much to delight of the public who had been expecting the two songs with anticipation.
The band left the stage once again but nevertheless returned for another encore, performing a further two songs.
Sting concluded the show by saying that the audience was very nice, and he promised that he would be back!
The performance lasted for around an hour and a half and was preceded by another performance from Fiction Plane, the band led by Sting's own son Joe Sumner, whose resemblance with his own father was quite noticable.
© www.di-ve.com by Chris Galea
For more reviews from Malta -
Click Here
.