Sting's reading matter...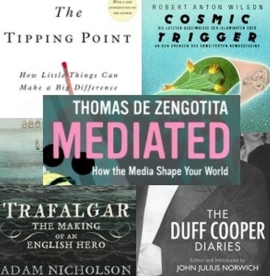 We know that many of you are interested in what Sting has been reading so when we caught up with him in New York recently we asked him if he could recommend any good books so that you might have something to read while travelling to and from concerts during the summer tour. You can view his reply in our latest video clip in Virtual Ticket...
Here are details of the five books Sting mentioned that he'd read recently and links to Amazon in case you fancy picking up a copy...
Men of Honour: Trafalgar and the Making of the English Hero
by Adam Nicolson
Synopsis: This is an unforgettable look at the contradictions of heroism, as embodied by Horatio Nelson and as tested by the battle of Trafalgar. Adam Nicolson looks at the variety of qualities - ruthlessness, bravery, kindness, cruelty - that combined in both Nelson and his troops to carry that fateful day. Trafalgar gripped the nineteenth century imagination like no other battle: it was a moment of both transcendent fulfilment and unmatched despair. It was a drama of such violence and sacrifice that the concept of total war may be argued to start from there. It finished the global ambitions of a European tyrant but culminated in the death of Admiral Horatio Nelson, the greatest hero of the era. This book fuses the immediate intensity of the battle with the deeper currents that were running at the time. It has a three-part framework: the long, slow six hour morning before the battle; the afternoon itself of terror, death and destruction; and the shocked, exultant and sobered aftermath, which finds its climax at Nelson's funeral in a snowy London the following January. Adam Nicolson examines the concept of heroes and heroism, both then and now, using Nelson as one of the greatest examples. A man of complexity and contradiction, he was a supreme administrator of ships and men; overflowing with humanity, charm and love but also capable of astonishing ruthlessness and ferocity. Nelson's own courage, vanity, ruthlessness and sweetness made him one of the great identifiable heroes of English history. In "Men of Honour", Adam Nicolson also traces the stories of many unknown people of the day. He tackles the move from the age of reason to the age of romanticism, and examines a battle that was not only a uniquely well-documented crisis in human affairs but also a lens on its own time. Adam Nicolson does not approach Trafalgar as a military historian. His book gives a wonderfully immediate recreation of both the battle itself and its aftermath in a rich, concrete and intellectually engaging style.
Available from
Amazon (USA)
and
Amazon (UK)
.
---
The Duff Cooper Diaries, 1915-1951
by Duff Cooper
Synopsis: Are these the best diaries covering Britain in the first half of the twentieth century? But what about those of Chips Channon, Harold Nicolson, John Colville, Lord Alanbrooke? (this list doesn't knowingly exclude Alan Clark, but he was recording the second half of the century). All published by Weidenfeld & Nicolson in hb; Phoenix in pb. As John Julius Norwich - Duff Cooper's son - says in his Introduction, his father was a first-rate witness of just about 'every significant event from 1914 to 1950.' But his diaries were also, like Alan Clark's, confessionals about his numerous love affairs. Unlike Alan Clark, however, he was less shy at admitting them to his beloved wife, Lady Diana Cooper. Every great diary requires the diarist to reveal himself to the reader. Duff Cooper does this in spades. He also includes some magnificent set pieces - as a young soldier at the end of WWI, as a politician during the General Strike of 1926, as King Edward VIII's friend at the time of the Abdication, and from Paris after the liberation in 1944, when he became British ambassador. If Duff Cooper's name has dimmed in the 50 years since his death, publication of these diaries will bring him to the fore once again. His family have long resisted publication - indeed Duff Cooper's nephew, the publisher Rupert Hart-Davis, was so shocked by the sexual revelations that he suggested to John Julius Norwich that it might be best for all concerned if they were burnt. Now, superbly edited by John Julius Norwich, who familial link ensures all kinds of additional information as footnotes, these diaries join the ranks. Here is history as it was being made - but with an enthralling social edge, like Alan Clark, Chips, Colville, Nicolson, even Alanbrooke, or if one goes back further, to Pepys and Evelyn.
Available from
Amazon (USA)
and
Amazon (UK)
.
---
The Tipping Point
by Malcolm Gladwell
Synopsis: The Tipping Point is the biography of an idea, and the idea is quite simple. It is that many of the problems we face - from crime to teenage delinquency to traffic jams - behave like epidemics. They aren't linear phenomena in the sense that they steadily and predictably change according to the level of effort brought to bear against them. They are capable of sudden and dramatic changes in direction. Years of well-intentioned intervention may have no impact at all, yet the right intervention - at just the right time - can start a cascade of change. Many of the social ills that face us today, in other words, are as inherently volatile as the epidemics that periodically sweep through the human population: little things can cause them to 'tip' at any time and if we want to understand how to confront and solve them we have to understand what those 'Tipping Points' are. In this revolutionary new study, Malcolm Gladwell explores the ramifications of this. Not simply for politicians and policy-makers, his method provides a new way of viewing everyday experience and enables us to develop strategies for everything from raising a child to running a company.
Available from
Amazon (USA)
and
Amazon (UK)
.
---
Cosmic Trigger
by Robert Anton Wilson
Synopsis (by the author): Cosmic Trigger deals with a process of deliberately induced brain change through which I put myself in the years 1962-1976. This process is called "initiation" or "vision quest" in many traditional societies and can loosely be considered some dangerous variety of self-psychotherapy in modern terminology. I do not recommend it for everybody, and I think I obtained more good results than bad ones chiefly because I had been through two varieties of ordinary psychotherapy before I started my own adventures and because I had a good background in scientific philosophy and was not inclined to "believe" any astounding Revelations too literally.
Available from
Amazon (USA)
and
Amazon (UK)
.
---
Mediated
by Thomas De Zengotita
Synopsis: Just when you thought there was nothing new to say about the media, along comes a book that transcends the conventional wisdom with an original vision. From Princess Diana's funeral to the prospect of mass terror, from oral sex in the Oval Office to cowboy politics in distant lands, from high school cliques to marital therapy, from hip-hop nation to climbing Mount Everest, from blogs to reality TV, Mediated takes us on a tour of every department of our media-saturated society. And at every turn we see ourselves as we are, immersed in options, surrounded by representations, driven to unprecedented levels of self-consciousness - and obliged by these new circumstances to transform our own lives into performances. Sophisticated and satirical, written with style and driven by raw energy, Mediated tackles everything we take for granted and reintroduces us to the world we think we know as if for the first time.
Available from
Amazon (USA)
and
Amazon (UK)
.