A short film featuring Dominic Miller...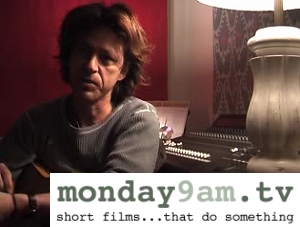 Nik Askew makes films. Films that reflect the world through his eyes, so are probably a more accurate reflection than any words. Some of Nik's films can be seen at Monday9am who make and screen short films that provoke you to think about what it is that makes you feel truly alive. As it says on their website, "We don't set out to answer these questions for you, as often they are the ones that only you should answer. Your life is your journey, if you choose it to be. Perhaps no one can give you your answers, but many things can help you find them for yourself."
A few months ago Nik contacted Dominic Miller to see if he was interested in getting together and having a chat and possible working together on something... 'the balls to stand naked' stars Dominic clocks in at 6 minutes 22 seconds. So how does everything we create, start? Perhaps it is with the relationship between two things, between us and a somebody or a something? Perhaps it is in our reaction with the world around us. And if it is, do we have a responsibility to ourselves to act on such potential relationships when we know that there is a 'story crying out to be told'? Dominic has for a long time recognised this pattern in his composition. As for the standing naked, you will have to see the film at
www.monday9am.tv
- check it out now!