Songs from the Labyrinth release info...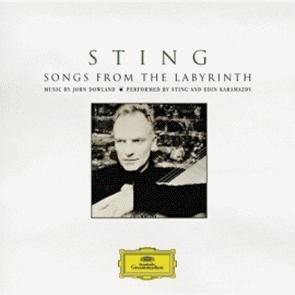 CD 170 3139
International Release Dates: Japan, Sep 27 / Germany, Austria, Switzerland & Italy, Oct 6 / UK & ROW, Oct 9 / USA, Oct 10
"It is exciting that an eminent pop musician is taking a serious and informed interest in John Dowland. His performances of the lute songs are refreshing in their vitality and their concern for the words. In my opinion his approach is likely to be closer to what Dowland would have expected than that of mainstream concert singers."
Peter Holman
This autumn Sting ventures into "new" musical territory with an album featuring the music of acclaimed Elizabethan songwriter, John Dowland (1563-1626). Sting is joined on this recording by much-admired lutenist Edin Karamazov, in what he describes as "a soundtrack to Dowland's life in words and music". 'Songs from the Labyrinth' will appear on Deutsche Grammophon, the world's most celebrated classical-music record-label.
In the early 1980s, Sting was first introduced to the music of John Dowland and has confessed that his music has been "gently haunting" him for more than twenty years. "About two years ago my long-time guitarist, Dominic Miller, gave me a gift that he'd had made for me, a lute - a sixteenth-century instrument with lots of strings. I became fascinated with it and immersed myself in lute music. It rekindled an interest I've had for a long time in the works of John Dowland, who wrote a number of fantastic lute songs. Dowland was really the first English singer/songwriter that we know of and so many of us owe our living to this man."
John Dowland's life was a colourful one. Before becoming court lutenist to James I in 1612, he had spent most of his career abroad in the service of kings, dukes, and princes throughout Europe, where he was recognized as one of the greatest musicians of his day. In 1595 Dowland wrote a letter to Queen Elizabeth I's Secretary of State, Sir Robert Cecil, pleading his allegiance to the English throne in the hope of an invitation back to England and into the Royal Court. He would have to wait a further seventeen years before his wish came true. It is extracts from this extraordinary letter which Sting incorporates into this album as short recitations, re-creating a flavour of Dowland's life and times.
"This project was never really meant to be a record. It was a labour of love. I wanted to learn these songs, and out of curiosity, Edin and I just kept going. I think it only became a record when we decided to put extracts of this letter in. Those that are familiar with John Dowland normally think of him as being this melancholy, doom-laden character; but he can write songs that are absolutely joyful - full of passion and happiness. He has it all."
Sting continues, "I'm not a trained singer for this repertoire, but I'm hoping that I can bring some freshness to these songs that perhaps a more experienced singer wouldn't give. For me they are pop songs written around 1600 and I relate to them in that way; beautiful melodies, fantastic lyrics, and great accompaniments."
In addition to the TV and Radio appearances
listed here
, watch out for the following magazines and newspapers for features on the new album and Sting...
El Pais (Spain)
Le Monde (France)
The Sunday Telegraph (UK) (October 8)
USA Today
Los Angeles Times (October 8)
Parade magazine (Mid October)
The Wall Street Journal
BBC Music magazine (UK) (October issue)
Classic Voice magazine (Italy) (October issue)
Le Monde de la Musique (France) (October issue)
Scherzo (Spain) (October issue)
Crescendo (Germany) (October issue)
Record Geijutsu (Japan) (October issue)
Stern (Germany) (Out now)
Early Music America (Fall 2006)
MIX magazine (Nov or Dec 2006)
Profil magazine (Switzerland) (Early October)
Bunte (Germany) (w/c October 16)
Le Soir (Belgium) (Early October)
De Standaard (Belgium) (Early October)
Frankfurter Runschau magazine (Germany) (Early October)
Die Zeit (Germany) (Early October)
Femme Actuelle (France) (Early October)
NZZ Sontags Zeitung (Switzerland) (Early October)
Le Temps (Switzerland) (Early October)
Österreich (Austria) (Early October)
Expressen (Sweden) (Early October)
NRC Handelsblad (Netherlands) (Early October)
Order from:
ORDER FROM AMAZON.COM
ORDER FROM AMAZON.CO.UK
ORDER FROM AMAZON.DE
More Information, music and video will follow as the release date approaches.
http://www.deutschegrammophon.com/special/?ID=sting-dowland