'Radio On' finally out on DVD...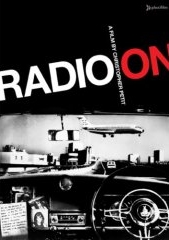 Ripe for rediscovery, director Chris Petit's post-punk journey has become a cult film since its initial release and is one of the most striking feature debuts in British cinema. Produced by Wim Wenders and featuring one of Sting's earliest acting performances, 'Radio On' is austere in narrative and captures the lurking disenchantment of the British youth movements of the time.
Stunningly photographed in luminous monochrome by Martin Schaefer (Wenders's brilliant cinematographer), and driven by a startling soundtrack (Bowie, Devo, Kraftwerk, Lene Lovich, Ian Dury, Wreckless Eric and more), Petit's anti-road movie "announced a directorial sensibility that was alien to British film." (Chris Darke, FILM COMMENT).
Following a young man as he travels to Bristol to investigate the mysterious death of his brother, it offers a unique, compelling and even mythic vision of a late 1970s England, stalled between failed hopes of cultural and social change and the imminent upheavals of Thatcherism.
In 1981, Sting told the New Musical Express: "'Radio On' was perfect. It came out at the same time as 'Quadrophenia'. So it wasn't as though either was a flash in the pan. I enjoyed being in it. 'It was a very cheap film - only about £50,000. And I got about 20 quid for it. They had a great lighting cameraman - the bloke who filmed Wim Wenders' 'The American Friend' which is one of my favourite movies. I loved Chris's way of directing, where I could just really be myself."
Described by the Daily Telegraph as "One of the landmark English films of the past 30 years."
Check out a 3 minute trailer (featuring Sting) at
www.plexifilm.com
.
You can order the DVD here: