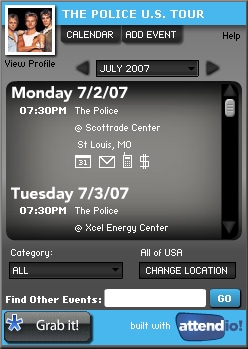 A widget is a small application that runs either on your desktop or in a Web page. The Police widget displays a calendar and the tour dates (European dates will be added next week).
Help get the word out about The Police tour! Show you're a fan by adding The Police widget to your site - e.g. MySpace, Facebook, Blogger or any web page you create.
To get the Police widgit visit
www.thepolice.com/eventswidget/
and click the 'Grab It!' button on the widget and save it to your social network site or blog (or copy the widget code into your site's HTML code).
If you want to learn more about widgits visit
www.widgipedia.com/
.