Sting's Australian interview...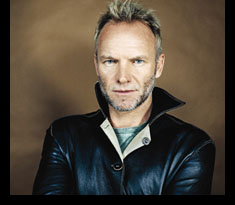 Stars don't come much bigger than Sting...
Over 30 years, he's sold millions of albums and won a staggering 17 Grammys, first as lead singer of The Police, then as a solo artist.
Sting is currently in Australia for a Police reunion tour and sat down with Today Tonight's Samantha Armytage for his only Australian TV interview.
Sam: Hi Sting nice to meet you, welcome to Australia.
Sting: It's great to be in Australia. I've been here for two weeks.
Sam: So, are you ready to get back into work yet?
Sting: Yes, I am.
Sam: It's been 23 years since you've been in Australia with The Police, is it exciting to be back with the band?"
Sting: It's kind of emotional to come back and play those Police songs.
Sam: Well 'Every Breath You Take' is the most requested song on radio of all time and I'm sure has been at a lot of wedding dances. How do you feel about that?
Sting: I know it's been number one longer than any song in history in America and I wonder about why it's so possible, it's very ambiguous. On one hand it's romantic; 'I'll be watching you'. It's also quite sinister, it's about somebody who's obsessed. I'm thrilled people have it for their wedding song. I'm quite a good wedding singer if you want to hire me, but I'm expensive.
The last show The Police did was in Melbourne in 1983, so it's fitting to come back. We've been together since May and we're getting on extremely well so it's great to be back in Australia.
Sam: I was going to ask you because the dynamics within the band, it quite documented how you split up in '84. I've actually read at one point you were having fist fights within the band - is that true and are they still going on?
Sting: Doesn't every band have fist fights? Yes, we were pretty volatile, only because all of us cared passionately about the music. We argued a lot, we still argue, but we navigate each other better. We're grown men now and we've learnt how to navigate, so it's very nice.
Sam: Why get back together after all these years? You've been solo and had so much success on your own, cynics might say it's for the money. You've sold 150 million tickets world wide, is it for the money?
Sting: OK, I don't need the money and if you'd asked me the day before 'will you get The Police back together again?', I would have said 'no, you're out of your mind, I don't want to do that'.
The next day, I woke up in the morning, I had a little voice here saying 'you re-form The Police' and a little voice here saying 'you're out of your mind' and I thought the idea it surprised me, appealed to me, so I called the boys up and said 'what do you think?' and then set the thing in motion.
My instinct knew it was the right time.
Sam: I read in a magazine the other day a quote from your wife, Trudie. She was asked about The Police re-forming and she said: 'The Police getting back together is amazing personally me, I'm more thrilled about Take That'.
Sting: (laughter) I'll be speaking to Trudie later.
Sam: How will things change this time around? What are the after parties like, for instance?"
Sting: Wouldn't you like to know? I think we're probably more sedate than we used to be, I'm 56 now have six kids and we do party, but we're not throwing TVs out the window or anything like that. I always thought that was ridiculous. I've never done that.
Sam: Really?
Sting: Sofas, but never a television.
Sam: 'We are spirits, in a material world'. What's the secret to staying so calm and to longevity in an industry like this? How do you stay in this business?
Sting: I'm lucky. I'm fortunate. I'm fit. I stay mentally fit. Music is still a challenge to me. I still sit upstairs and practice me scales. I'm a musician. I'm not a pop star. I'm a pop star by accident, I'm a musician by trade.
Sam: But you are a star. It would be very easy to get caught up in it. You introduced Madonna to Guy Richie. You're her son, Rocco's, god father. It would be very easy to get wrapped up in that and lose perspective. How do you keep your feet on the ground?
Sting: I was 28 before I became a celebrity. I'd had a job. I was a schoolteacher, so it made me appreciate my good fortune after that. I still feel the same. I don't regard myself as a celebrity, I'm a musician.
© Today Tonight by Samantha Armytage