Trudie Styler and Sting's Rainforest Foundation Fund's ''Some Kinda Legacy'' Benefit Concert celebrates 15th performance May 8th at Carnegie Hall...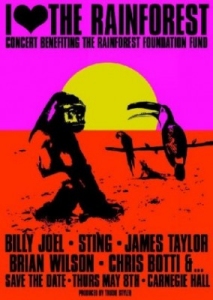 Billy Joel, James Taylor, Sting, Brian Wilson, Feist, Roberto Alagna, Chris Botti, Natalie Clein, Alexa Ray Joel, Coco Sumner, Ben Taylor, Sally Taylor to perform along with many more special guests...
Mayor issues proclamation declaring the month of May 'Rainforest Awareness Month'. Empire State Building to glow green in tribute.
Twenty years committed and still going strong, Trudie Styler and her husband Sting will celebrate the 15th Rainforest Foundation Fund's "Some Kinda Legacy" Benefit Concert on May 8 at the eminent Carnegie Hall, followed by a gala dinner at the legendary Plaza Hotel's Grand Ballroom. Billy Joel, James Taylor, Sting, Brian Wilson, Chris Botti, Feist, celebrated French operatic tenor Roberto Alagna, cellist Natalie Clein plus special musical family members including Alexa Ray Joel, CoCo Sumner, Ben Taylor, Sally Taylor, along with many more special guests will perform one night only on behalf of the Rainforest Foundation Fund. MacAndrews & Forbes, one of the RFF's longest-running corporate supporters will be joined this year by Crate and Barrel as the evening's Co-Sponsors.
To celebrate the achievements of The Rainforest Foundation Fund and to raise awareness of its mission, Mayor Bloomberg's office has issued a proclamation declaring the month of May "Rainforest Awareness Month", while Crate and Barrel's Madison Avenue store windows have been decorated to reflect inspiring success stories from the world's rainforests. Also, the Empire State Building will glow green in tribute on the evening of the benefit. Adding more excitement to the evening, the makers of Smart Car have donated the Passion Cabriolet, autographed by all of this year's participating artists - one of the many unique featured items offered in the evening's live auction.
"Once again I have the great privilege of producing an all-star line-up for the Rainforest Foundation benefit at Carnegie Hall," said Trudie Styler. "It is a tremendous thrill for me to work with so many responsible and generous artists, who all step up with such grace to make this show one of the most unique and talked-about concerts of the calendar. What inspires us all to keep participating in this regular event is recognizing the importance of taking care of our precious planet, and working to protect it from further degradation. The money we raise will improve the lives of so many indigenous people - giving them safer water, protected homelands and a sustainable future - and in turn will make us all the beneficiaries of a healthier planet."
Created in 1989, The Rainforest Foundation Fund did not emerge out of an abstract concern or theory about the environment or indigenous peoples. It began because an indigenous leader asked for Trudie Styler and Sting's help. They agreed to involve themselves tirelessly in support of that call because they understood that the threat to the home of those indigenous people was part of a larger threat to all of us, and our future. Over the years, many of the objectives of the Rainforest Foundation Fund, and the national organizations - RFF Norway, RFF UK, RFF USA, which now covers Asia, Africa and the Americas, have been successfully achieved. However, the work is far from over as they continue to focus on crucial issues such as land rights, security, natural resources management, community and organizational development, cultural revitalization, protection of human rights and supporting the indigenous people.
According to RFF International Chairperson, Franca Sciuto: "Whatever success we achieve is in large measure the success of those who are at the forefront of the struggle to protect their land, their rights, their lives, the indigenous peoples and tribal populations of the world to whom we renew our commitment. Our thanks go to Sting and Trudie for their continued support, to our supporters and donors." For more information please visit the website at
www.rainforestfoundationfund.org
.
Gala tickets are still available: Tamara Leuchtenburg at Event Associates, (212) 245-6570x15 / email
tamaral@eventassociatesinc.com
.
Concert only tickets from $400-$150 are also available through Carnegie Hall Box Office: 212-247-7800