Sting in 'Welcome to the Voice' in Paris...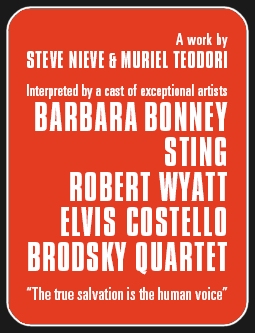 Following the highly successful Police reunion tour, Sting will take on a new and different challenge this November, as he takes to the stage in Paris for five performances of 'Welcome to the Voice', a work fusing rock and opera by composer Steve Nieve and librettist Mureil Teodori.
'Welcome to the Voice' was originally released by Deutsche Grammophon in 2007 and featured Barbara Bonney, Sting, and Elvis Costello. Both Sting and Elvis Costello will be performing the stage version at the Théatre du Chatelet beside Marie-Ange Todorovitch, Sylvia Schwartz and Joe Sumner, as "Friend of Dionysos," on 20, 21, 23, 24 and 25 November 2008. Tickets are available from
www.fnac.com
.
Steve Nieve, Elvis Costello's long-time pianist and music director, and Nieve's partner Muriel Teodori, a film/theatre director and psychoanalyst, began working on 'Welcome To The Voice' ten years ago. She wrote the libretto, he composed the music, and together they developed and shaped the project that is a work in homage to the human voice. 'Welcome To The Voice' is a multifaceted piece that welcomes voices from different musical worlds. It lives on the juxtaposition of men who have rough, untrained voices, coming from jazz or rock, with women who have classically trained voices. Apart from the music itself, the beauty of this project lies in the profound idealistic - even romantic - themes that transcend all levels of the work. The catchphrase is: "unlikely encounter". Seemingly opposing music genres, classes, artists, languages, and codes are unified in the name of love and art.
CAST & CREW:
Music - Steve Nieve
Libretto and Staging - Muriel Teodori
Musical Direction - Wolfgang Doerner
Choreographic Collaboration - Daniel Larrieu
Set Design - Bernard Arnould
Lighting Design - Jacques Rouveyrollis
Dionysos - Sting
Police chief - Elvis Costello
Friend of Dionysos - Joe Sumner
Diva Lily - Sylvia Schwartz
Ghost of Carmen - Marie-Ange Todorovitch
Ghost of Madame Butterfly - Sonya Yoncheva
Ghost of Norma - Anna Gabler
Ensemble orchestral de Paris Choeur du Chatelet
Coproduction Théatre du Chatelet and TS3 - Thierry Suc