Sting and Pals 'Rain' Over NYC...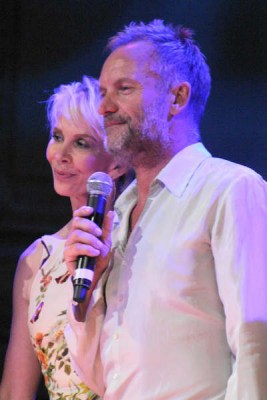 It was a family affair last night at Carnegie Hall for the annual Rainforest Foundation concert.
The audience that's followed Sting and Trudie Styler's commitment to saving indigenous peoples of the world for the past two decades also got to see how the performers' families have grown up.
Not only did Sting, Billy Joel, and James Taylor perform, but so did their kids: 17-year-old Coco Sumner, 22-year-old Alexa Ray Joel and thirtysomethings Ben and Sally Taylor (whose mom is Carly Simon).
There was also a second-act centerpiece tribute to the Beach Boys' Brian Wilson, with eight of his classic songs like 'Good Vibrations' and 'Help Me Rhonda'. The songs are beautifully executed while Wilson - whose life history of mental problems has been well chronicled - occasionally joins in on vocals. The material is vibrant and strong, which is rather a nice tribute to him after 40-plus years.
Also on the bill was opera great Kathleen Battle. The show was so jam-packed that a planned set with Lovin' Spoonful founder John Sebastian had to be scrapped at the last minute. He'll be back next time, however.
There were several transcendent moments, including a surprise performance by Sting singing a song written by actor Dustin Hoffman, who accompanied him on piano. The two-time Oscar winner turns out to be an accomplished musician; he could build a whole cabaret act as a second career.
The night, produced by superstar producer Narada Michael Walden, had an eclectic but warm feel with so many family members coming and going. Sting and Billy Joel pulled off a well-executed 'Strawberry Fields Forever' as a rare duet, and Sting showed off his R&B chops on 'Some Kind of Wonderful', the Soul Brothers Six hit from the '60s that was later recorded by Grand Funk Railroad and Buddy Guy.
On the solo front, Billy gave the audience his Drifters-inspired 'An Innocent Man', with soaring vocals and finger snaps, while Sting - who's been on tour with the Police for a year - recovered his solo career with the charming, melodic 'Englishman in New York'. He told me later he'd been so involved with Police business, "I almost forgot how to do it."
But the kids stole the show - remember the adage never work with kids or pets? Well, that was proven out as Billy and Alexa performed on stage together for the first time ever, doing a vampy version of Billy's Ray Charles-inspired 'Baby Grand'. Alexa, who's been touring the Northeast for the last couple of years, has really matured as a performer. She's ready for the big career that was already apparent a couple of years ago.
Ben and Sally Taylor are already accomplished musicians, with indie albums out and a song each on Carly Simon's new album, 'This Kind of Love'. Sally, though, was especially a trouper since the new mom came on crutches - she broke her leg a month ago while skiing in Colorado. Still, looking lovely in a black full-length gown, she showed off her singing genes with an original song that could easily stand with those of her parents.
But still, the show stealer of the night was Coco Sumner, Trudie and Sting's 17-year-old daughter. With a husky voice that reminds of her father but is original, Coco confidently sang one of her own tunes and accompanied herself on guitar.
The long-legged brunette - whose older brother Joe already fronts his own rock group, Fiction Plane - wowed the crowd including a cheering section of siblings including sisters Kate and Mickey, and film-student brother Jake.
Backstage all the parents were beaming over their kids, including Alexa Ray's mom, Christie Brinkley, who was in the audience along with Billy's current wife, Katie Lee Joel. Just to make things fair, since Billy got to sing with Alexa, Christie was awarded "custody" for the swanky post-concert dinner at the Plaza Hotel. That's what you call a modern stepfamily!
Even though a nasty piece earlier this week in the New York Post tried to rain on the foundation's parade, the evening probably raised another couple of million dollars that will be doled out over next couple of years in Third World countries. Some of the auction items at the Plaza dinner that fetched big bucks included staying for a week at Sting and Styler's Tuscan villa, and getting up close and personal with Bruce Springsteen at his upcoming Meadowlands concert.
For Styler, especially, the continued success of the foundation is some kind of wonderful accomplishment. She spent several days last week in Ecuador - her fifth trip in a year - working with the U.N. on an irrigation project to bring that parched country clean drinking water. I think the rest of us were at the movies or something. It's to be applauded. Loudly.
© FoxNews.com by Roger Friedman
---
For more reviews and photos visit
Sting.com/reviews