Tour Archive now online...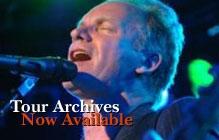 The latest addition to Sting.com is a Tour Archive section that provides more than 1,200 concert reviews from concerts by Sting and The Police.
From Strontium 90's gig at the Circus Hippodrome in Paris back in 1977 to the Broken Music tour of North America the tour archive brings you a collection of reviews covering over twenty five years of live concerts across the globe.
It goes without saying that if you have any reviews from shows you attended tucked away in a scrapbook or box somewhere that are not already on the site we'd love to add them too. It doesn't matter if they are not in English - Sting.com members come from all part of the world and your review will find happy readers somewhere!
Feel free to scan any reviews and email them to us at daveandwendy@sting.com and we'll do our best to get them into the archive.