Rainforest Benefit Concert Review...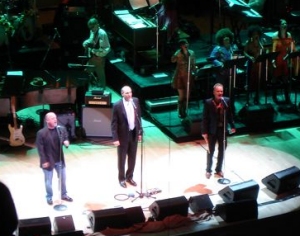 To wrap up my whirlwind tour of concerts I attended my first Rainforest Foundation concert tonight. It was also my first time at Carnegie Hall and I didn't even practice! ;-) What a fun show! The theme was Woodstock and they played a bunch of songs that where on the charts between 1968-70. The show had a goodly amount of comedy in it as well a surprise guest.
It was all serious until the intermission, after which the back up singers all came back in huge afro wigs, the string section came in in rainbow afros, the drummer (Narada Michael Walden) in an indian chief costume with full headdress. The first on stage was surprise guest Russell Crowe who sang a song called 'Mr. Harris' "...the emerald green of Ireland's pride..." written on a napkin in Ireland when Ireland unexpectedly beat Australia in a rugby match.
Following this, Saturday Night Live star Will Ferrell came on in a hilarious looking red body suit and sang 'MacArthur Park'. He danced into the audience and felt up a spectator (who took it stoically) to the roars of laughter of the rest of the crowd. Needless to say, Will Ferrell got a standing ovation at Carnegie Hall!
A bit later we were introduced to Mr. Billy Cocker!! and out comes Billy Joel with a wig and in full Joe Cocker character to sing 'A Little Help From My Friends'. Next up James Taylor in a British officer's uniform complete with shorts to sing 'War'. And finally Sting in a dreadlock wig with all the rest (now everyone with afros) for 'Get Together' and the grand finale.
I'm actually quite looking forward to doing it again next year. It was a great experience.
The set list was as follows in the format: Song (Author) - Performer, if no () then he wrote it!
Special thanks to my neighbor from BC, Canada for her help naming some of the songs "why are you writing all this down?" me:"for the Sting website" her: "does he know?" me:"I sure hope so!"
For you younger ones out there, some of these titles might not ring a bell, but the songs certainly do - so look 'em up if you don't think you know 'em.
1. Woodstock (Crosby, Stills, Nash & Young) - Sting/James Taylor/Billy Joel
2. Carolina in my Mind - James Taylor
3. Your Song (Elton John) - Billy Joel
4. (Sittin on) The Dock of the Bay (Otis Redding) - Sting/Billy Joel(piano)
5. Trudie Styler - Speech and Thanks
6. For What it's Worth (Buffalo Springfield) - Sheryl Crow
7. Wichita Lineman (Jimmy Webb) - James Taylor/Jimmy Webb
8. A Whiter Shade of Pale (Procol Harum) - Billy Joel
9. Thank You For Letting Me Be Myself Again (Sly & The Family Stone) - Lenny Kravitz
10. Give Peace a Chance (John Lennon) - Sting/Sheryl Crow/Lenny Kravitz/Billy Joel/James Taylor
--Intermission--
11. Mr. Harris - Russell Crowe
12. MacArthur Park (Jimmy Webb) - Will Ferrell/Jimmy Webb
13. Cry Like a Baby (Box Tops) - Sting
14. I Got You Babe (Sonny & Cher) - Sheryl Crow/Sting
15. Gimme Some Lovin' (Spencer Davis Group) - Billy Joel
16. Let it Be (The Beatles) - Sheryl Crow/James Taylor
17. Little Wing (Jimi Hendrix) - Sting
18. Foxy Lady (Jimi Hendrix) - Lenny Kravitz
19. A Little Help From My Friends (The Beatles) - Billy "Cocker" Joel
20. Classical Gas (?-) - Larry Carlton (guitarist)
21. War (Edwin Star) - James Taylor
22. Get Together (The Youngbloods) - Sting/Sheryl Crow/Lenny Kravitz/Billy Joel/James Taylor
23. Aquarius/Let The Sun Shine (5th Dimension) - Sting/Sheryl Crow/Lenny Kravitz/Billy Joel/James Taylor
For hundreds of photographs from the show visit
www.wireimage.com
.
Review by Peter Ostreicher
To view some interview footage with the performers and some clips of the show visit
www.cbsnews.com/
and search for the link 'Concert With A Cause'.