Maltapost issues Sting Commemorative Miniature Sheet...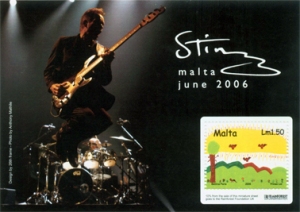 To commemorate the forthcoming Sting concert in Malta, the Philatelic Bureau of Maltapost plc are issuing a Commemorative Miniature Sheet on Monday 5 June.
This Miniature Sheet, which has been printed on Maltese Crosses watermarked paper by Printex Ltd of Qormi, has been designed by 26th Frame, and incorporates a re-issue of a previously issued stamp. The Sheet comes in a size of 121.0mm x 86.0mm, and the re-issued stamp is 33.0mm x 27.0mm, with a perforation of 14.00 x 13.75 (comb).
The re-issued stamp incorporated in the Miniature Sheet carries a face value of Lm1.50 and had originally been designed by young Bettina Paris as part of a four-stamp Children's Design set issued in 18 October 2000. In this particular stamp, the young artist has managed to express her care for the environment, which is shown through the eyes of a child. This set had been very well received when it was originally issued.
Maltapost has chosen to re-issue this particular stamp with the Commemorative Sheet for the Sting Concert in Malta, as Sting is one of the major founders of the Rain Forest Foundation and helps to organise a number of events, proceeds of which go to this Foundation. As part of its contribution to this Foundation, Maltapost will be donating ten percent of the proceeds from the sale of this Commemorative Sheet.
This Commemorative Sheet will be available from all Maltapost postal retail outlets in Malta and Gozo, from the Maltapost Mobile Unit, and from a Sales Point during the Concert itself.
Additional information, including electronic orders, is available from the Philatelic Bureau (Tel. 2123 9153 or e-mail philately@maltapost.com), or from the Maltapost website,
www.maltapost.com
.