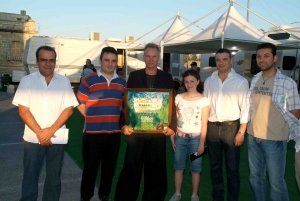 Prior to the successful Sting concert at the Luxol Grounds on Tuesday, Maltapost Chairman David Stellini presented the singer with an original memento in appreciation of Sting's permission for the use of his signature and images on the Miniature Sheet issued for this occasion.
The memento is an Mdina Glass creation in fused glass, showing Verdala Castle and the Buskett Gardens, and providing the right link with the Rainforest Foundation which the singer supports. The memento also included a mint Miniature Sheet and the Maltapost logo.
Sting expressed his appreciation to Maltapost, and said he would treasure the memento as a reminder of his visit.
The Rainforest Foundation will be benefiting from the sale of the Miniature Sheets, with ten percent of the sale price going towards supporting its work with indigenous forest peoples in the Amazon and Congo rainforests. More information regarding the work performed by the Rainforest Foundation may be obtained from the Rainforest Foundation website (
www.rainforestfoundationuk.org
).
The Commemorative Sheet is available from all Maltapost retail outlets in Malta and Gozo, from the Philatelic Bureau (tel. 2123 9153 or e-mail philately@maltapost.com), or from the Maltapost website,
www.maltapost.com
.
Maltapost Senior Manager Marketing and Business Development John Agius, who led the negotiations with the singer's management to issue the Miniature Sheet, Senior Manager Sales Edwin Borg, and Senior Administrator Philatelic Business Development George Galea were also present for the occasion, together with Bettina Paris, the designer of the stamp incorporated in the Miniature Sheet, and designer Alessandro Farrugia from 26th Frame, who designed the Miniature Sheet.