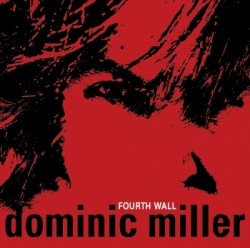 Dominic Miller's new album 'Fourth Wall' will be released on September 1, but the album can be ordered for immediate delivery via his website.
Regular visitors to Dominic's website will know that he has been keeping a detailed journal that charts the album's progress from his first ideas right through to final mixing and organising the artwork. Some of the guest artists on the album include Chris Botti, Rhani Krija, Mike Lindup, William Topley, and Nicolas Fizsman.
We don't really need to tell you just how good the album is, but you can find out for yourselves by ordering online at
dominicmiller.com/store
. And as an added bonus, everyone that orders the album online up until July 31 will automatically be entered in a free draw to win one of ten sets of a signed CD and and signed poster!.
In September Dominic will be showcasing the album at three launch shows in Germany, where he will be performing with Mike Lindup, Rhani Krija and Nicolas Fiszman. The shows are
20.09.2006 Berlin, Quasimodo
21.09.2006 Düsseldorf, Savoy Theater
23.09.2006 Hamburg, Reeperbahn Festival