Booksigning in Estonia - Sting meets fans and sign copies of 'Broken Music'...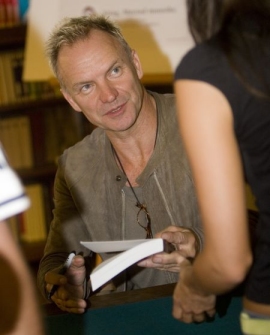 Sting's' memoir, "Broken Music", was published in Estonian last week. On Friday at 2pm, he will meet fans & sign copies of the book before his concert at the Saku Arena - featuring a new energetic and stripped down rock show from the Broken Music Tour. The concert will feature music spanning the course of his career. The opening act for the evening and the special guest of the show is Sting's son Joe Sumner with his band Fiction Plane.
"I am delighted by the recent publication of "Broken Music". It has been 5 years since I've played Estonia and I look forward to meeting fans and performing there again," says Sting.
In the words of concert producer Peeter Rebane this is the first time in his 11 years and 400 show experience when a top world artist meets people in person and gives autographs signing books.
Information for people coming to book signing:
- Sting will sign books tomorrow, Friday July 28th at 2 pm for one hour in Tallinn, Viru Center's third floor bookstore Rahva Raamat in Tallinn.
- Sting will sign only his book "Broken Music" and only one copy per person! In addition for bookstore, books are sold on Friday in Viru Center indoors and our. Any other items (albums, posters, photos, etc) are not allowed to be brought in to the signing.
- Signing session takes place from 2 till 3 pm
- The gathering for book signing is in Viru Center's Hämariku Square, outside the Center.
- Entrance to the signing is only from outside (Hämariku Square) and only in form of a queue.
- After Sting has arrived, people wanting their book signed are directed through the stare gallery to the bookstore and after that directed out of it, inside the shopping center. An hour before and during the signing session no movement to the bookstore from inside the center will be allowed. The only way to signing session is from outside of Viru Center, from Hämariku Square through the stair gallery.
- Hämariku Square outside the Viru Center waits people already earlier to the lovely afternoon-gathering, where will be DJ playing music, café, Sting's books and tickets to the evening show will also be sold.
- People are instructed and guided by beloved radio and tv host Vahur Kersna.
Concert information:
Sting will perform during his Broken Music Tour in Tallinn on Saku Arena tomorrow, Friday July 28th. The show is opened by special guest Sting's son Joe Sumner with his band Fiction Plane.
Tickets to the show are on sale in all Piletilevi and Statoil ticket selling points all over Estonia.
Saku Arena opens doors on Friday at 6pm. Show will start at 7.30pm.