Virgin Festival by Virgin Mobile expands to two days featuring The Police, The Smashing Pumpkins abd Beastie Boys...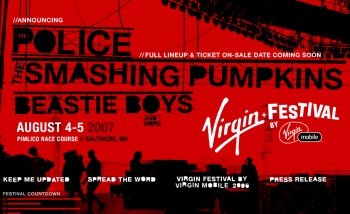 Virgin Group Founder and Chairman Sir Richard Branson, creator of the world-renowned UK-based V Festival, announced today 3/22/2007 that the U.S. Virgin Festival By Virgin Mobile will be held August 4-5, 2007 at Pimlico Race Course® in Baltimore, Maryland, adding a second full day of music in its second year.
On behalf of partnering hosts Virgin Mobile USA and Virgin USA, Branson announced the first three acts to be confirmed: The Police, The Smashing Pumpkins and Beastie Boys. On-sale dates for tickets, the rest of the very diverse two-day line-up and additional information about the Festival will be announced in the coming weeks.
"Everybody had an incredible time at last year's inaugural Virgin Festival, so we're going to double the fun this summer with two days of great music," said Sir Richard, whose legendary music heritage is the inspiration behind Virgin's music festivals. "With our unbelievable headliners and terrific festival vibe, Virgin Festival will be the hottest destination for live music this summer."
The three bands have chosen the Virgin Festival By Virgin Mobile to make rare live appearances. The Police are on tour for the first time in 21 years, giving lifelong fans a long-awaited opportunity to see this legendary band. The Smashing Pumpkins are reuniting for their first US performance since going on hiatus in 2000. And Beastie Boys will make their first east coast appearance in two years.
The first U.S. Virgin Festival By Virgin Mobile was held September 23, 2006 and featured 20 bands performing for more than 45,000 people across two stages and a giant dance tent. This year, the site will again provide all kinds of entertainment and activity, with high-quality concessions, a diverse array of vendors and non-profit organizations, art installations, performance art and more.
Branson also highlighted that the Festival will be as eco-friendly an event as feasible this year in an effort to limit its carbon impact, "supporting Virgin Group's ongoing commitment to attacking the causes of global warming. We are exploring numerous ways to minimize the impact of the festival on the environment."
Virgin Mobile USA is the leading wireless youth network with more than 4.6 million customers enjoying wireless service without long-term contracts. "Our customers share many things, and a passion for music is one at the very core of who Virgin Mobile is," said Dan Schulman, chief executive officer of Virgin Mobile USA. "We're not only producing the most dynamic music festival this summer, we are creating a special setting for people to experience music and art, hang with friends, text and talk and network, interact with diverse communities, learn about issues and enjoy themselves."
"Virgin is one of the most exciting brands in the world, offering hip, fresh, innovative products and services that resonate with the young-at-heart," said Frances Farrow, chief executive officer of Virgin USA. "Virgin Festival embodies the best of the brand and gives music fans of all ages the chance to experience for themselves what Virgin is really about."
Part of repeating and surpassing the success of the first Virgin Festival By Virgin Mobile is the return of producers I.M.F., a company formed by the principals of I.M.P., one of the country's leading independent concert promoters and owners of Washington, D.C.'s famed 9:30 Club. "We had such a blast at last year's show; we can't wait to get back. Right now I'm putting together the lineup that will just be A-list from start to finish, on both stages and in the dance tent," said promoter Seth Hurwitz. "Hold the dates...August 4th and 5th...we will be here to entertain & amaze."
"On behalf of the City of Baltimore, I'd like to say thank you to Mr. Branson and Virgin for bringing this world class event back to our city," said Mayor Sheila Dixon who added, "We are excited and proud to, once again, host the Virgin Festival By Virgin Mobile and some of the music industry's biggest talent."
Historic Pimlico Race Course in Baltimore, MD is the home of the world famous Preakness Stakes®, the Middle Jewel of Thoroughbred Horse Racing's storied Triple Crown. More information about Virgin Festival By Virgin Mobile can be found at www.virginfestival.com.
THE POLICE NORTH AMERICAN TOUR ITINERARY 2007 (as of March 22)
28 May GM Place, Vancouver BC
30 May GM Place, Vancouver BC
02 Jun Commonwealth Stadium, Edmonton AL
06 Jun Key Arena, Seattle WA
07 Jun Key Arena, Seattle WA
09 Jun Pepsi Center, Denver CO
10 Jun Pepsi Center, Denver CO
13 Jun McAfee Coliseum, Oakland CA
15 Jun MGM Grand Garden, Las Vegas NV
16 Jun Bonnaroo Festival, Manchester, TN
18 Jun US Airways Arena, Phoenix AZ
20 Jun Staples Center, Los Angeles CA
21 Jun Honda Center, Anaheim CA
23 Jun Dodger Stadium, Los Angeles CA
26 Jun American Airlines Center, Dallas TX
27 Jun American Airlines Center, Dallas TX
29 Jun Toyota Center, Houston TX
30 Jun New Orleans Arena, New Orleans LA
02 Jul Scottrade Center, St. Louis MO
03 Jul Xcel Center, St. Paul MN
05 Jul Wrigley Field, Chicago IL
10 Jul Dolphin Stadium, Miami FL
11 Jul St Petersburg Times Forum, Tampa FL
14 Jul Churchill Downs, Louisville KY
16 Jul Quicken Loans Arena, Cleveland OH
17 Jul Palace of Auburn Hills, Detroit MI
19 Jul Citizen's Bank Park, Philadelphia PA
20 Jul Hersheypark Stadium, Hershey PA
22 Jul Air Canada Centre, Toronto, ON
23 Jul Air Canada Centre, Toronto, ON
25 Jul Bell Centre, Montreal, PQ
26 Jul Bell Centre, Montreal, PQ
28 Jul Fenway Park, Boston, MA
29 Jul Fenway Park, Boston MA
31 Jul Rentschler Field, Hartford CT
01 Aug Madison Square Garden, New York NY
03 Aug Madison Square Garden, New York NY
04 Aug Virgin Festival, Baltimore MD
05 Aug Giants Stadium, East Rutherford NJ
08 Nov Air Canada Centre, Toronto ON