Joy Rose EP available for iTunes download...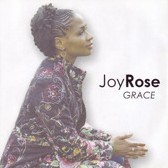 Joy Rose's EP entitled 'Grace' has been released on iTunes and is currently available from the US and UK iTunes stores. The four track EP features which was produced and co-written by
Kipper
includes two versions of the title track - radio edit and full version, plus 'He Can Work It Out' and 'Just Believe'. Originally released in late 2006 Cross Rhythms reviewed the CD as follows...
"Best known as a backing singer for Sting, there's no doubting the vocal talent of Joy Rose. Now she's stepped into the solo spotlight for her gospel debut and delivered a four-song EP to introduce herself. You get two versions of the exceptional title cut basically split into long and edited versions. The groove reminds me of Sting's 'If You Love Somebody Set Them Free' or is that simply autosuggestion because of Joy's associations? Whatever, it's a classy track. 'He Can Work It Out' is the most preachy and passionate here with Joy reminding us that God is in control whilst wailing like a Sunday morning sister. Powerful stuff! 'Just Believe' takes the tempo way down with piano, a gentle arrangement and some lush backing vocals. It's a late night prayer of encouragement and another opportunity to highlight Joy's amazing voice. As an introduction, this has done the trick because the combination of true gospel material which ministers and a voice that communicates every nuance of emotion, this has got me wanting to hear a whole album. Joy Rose is a British talent worth savouring with a lingering listen to these songs."
Available from iTunes.
Check out Kipper's website at
www.kippermusic.co.uk
.