Sting Still Rocks for Rain Forest, Sings to Raise $2 Million...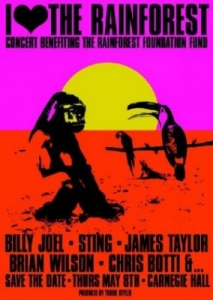 Sting Still Rocks for Rain Forest, Sings to Raise $2 Million
Sting, who's been rocking for the rain forest since 1989, celebrates 20 years as a celebrity eco-warrior next week with a benefit concert at New York's Carnegie Hall.
The goal is to raise more than million for the Rainforest Foundation, the charity he started with his actress wife, Trudie Styler.
The couple found their cause after traveling to Brazil, where they heard an Indian tribal leader's plea for help in saving the Amazon rain forest where he lived from industrial development. In 1993 the foundation won legal recognition for more than 37,000 square miles of land inhabited by the Kayapo Indians.
"To actually demarcate a huge piece of land in Brazil and protect it gave us the confidence to carry on," Sting said last month in a telephone interview from his home in London. "Today, we're a human rights organization more than anything else."
What began as largely an environmental crusade to protect the rain forest from pollution has evolved into something more personal. With offices in London, New York and Oslo, Sting's Rainforest Foundation also funds a legal campaign to establish land rights for the indigenous people who have dwelled among the tall trees for generations.
As interim executive director of the U.S. office for the foundation, Christine Halvorson is overseeing projects to secure land ownership rights for the Mayangna people in Nicaragua and the Shuar in Ecuador.
Water Contamination
Styler said she's traveled to Ecuador on several occasions in the past year to work on a project with Unicef to stop water contamination from oil drilling.
The annual benefit concerts have raised $25.8 million over the last two decades, according to Franca Sciuto, chairwoman of the Rainforest Foundation Fund, a separate, New York-based nonprofit that raises money to support the group's projects in 23 countries.
Sting will perform at the Carnegie Hall show on May 8, along with James Taylor, Billy Joel, former Beach Boy Brian Wilson, pop-jazz trumpeter Chris Botti and French operatic tenor Roberto Alagna, who'll help lead a tribute to Luciano Pavarotti, who died of pancreatic cancer last year.
The concert, called "Some Kinda Legacy," is the Rainforest Foundation's largest fundraiser, Sting said. Billionaire financier Ronald O. Perelman, a friend of the couple, will underwrite the event through his company, MacAndrews & Forbes Holdings Inc.
Organic Dinner
After the show, donors and invited guests will attend a dinner of organic and locally grown foods at the Plaza Hotel, plus a live auction to raise money for the cause.
Among the items up for bid: a Passion Cabriolet donated by the makers of the Smart Car; a Fender Telecaster guitar signed by Bruce Springsteen; and a private session with Tiger Woods, the world's top-ranked golfer, currently on the mend following knee surgery last month.
"What Trudie and I do really is raise money," said Sting, former frontman for the Police, who's sold more than 100 million records as a group leader and soloist. "We really had no idea how to do this and had to learn on our feet. So we were wise enough to hire professionals."
Sciuto was chairwoman of Amnesty International's executive committee from 1982 to 1989. S. Todd Crider, a partner at the New York-based law firm Simpson Thacher & Bartlett, is chairman of the foundation's U.S. board, along with Irma Gonzalez, director of development for the Proteus Fund, a philanthropic advisory service, and Jessica Serafin, a Goldman Sachs Group Inc. associate.
"We're fighting a battle, and it's never over," Sting said. "It's been 20 years of struggle, but we're still here."
The Rainforest Foundation's benefit concert is May 8 at 7 p.m. at Carnegie Hall, 57th Street at Seventh Avenue in New York. Tickets are $175 to $400. Information: +1-212-247-7800;
www.carnegiehall.org
.
© Bloomberg.com by Patrick Cole