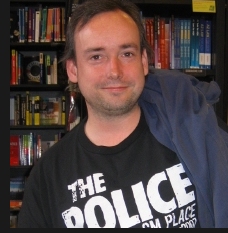 What a month October has been for me. In Newcastle Sting joked with me "haven't you got a home to go to?" I have, and I've even spent the bulk of the time at work, but I have been out of the office with whirlwind trips around the UK and now to see Sting in Florence. This was going to be my grand tour (or was that 2007-8?) where I turn into Renaissance man, and learn all those "things they would not teach me of in college?" Time to soak up culture on a scale of unbelievable beauty, awe inspiring artwork and a glass or two of Chianti. Even the odd shower of rain, couldn't dampen my spirits. Did I mention Pizza? I am reliably informed that some fans were lucky enough to see Sting having a quick Pizza opposite the Teatro, before the sound check, whilst I was still admiring Renaissance artwork.

Anybody lucky enough to see Sting on his birthday, thinking he may of peaked, think again, the show goes from strength to strength. Many fans experience, and sometimes encounter strange looks (and questions) from their partners, friends or colleagues. A question I get asked a lot "why do you go to more than one concert?" The answer to that question lies in my review, each concert is different and Florence was unique in some very special ways.

I was travelling with my sister, and was amazed that she met a work colleague who was on the same flight as us going to Pisa. Only to have moments later, "Hello Roger, how's it going?" An ex-student from where I work was on the same flight; my sister thought he was a Sting fan! (Judging by the number times EBYT is played on the radio, everybody should be). She thought something was up when I said to him "do you know you have left some of your work in my office!" I was trying to work out the probability of that happening - is the world really getting that small? At the venue meeting people you know is a certainty and it was lovely talking to Lydia and Joelle again, and we were reminiscing about the RAH concerts, before 'Showtime'.

As I had bought the RAH tickets, I let my sister buy the Florence ones, interestingly enough we weren't quite sure where we were sitting - my linguistic skills sadly, don't stretch to Italian - but thanks to the fan club we were in the front row. I think we had better seats than Trudie, who was two rows behind us! "Who is that older man she is with", I heard somebody mutter? That was Zucchero, both were totally relaxed and happy, and remained unnoticed by the majority of the audience and those that did showed etiquette that any top finishing school would be proud of.

One of the main differences from previous concerts, was much of the talking in between songs was slimmed down, but Sting was doing a fine job talking in Italian, the audience clearly showed their appreciation of this. The gem came during the chorus of "Mad about You", where Sting was singing "I'm Mad about you... Muoio per Te". (I hope I translated that correctly?) people were cheering, if Carter had been there, he would have said "Nice One!"

The audience were reserved to start off with, but I knew that with the passion of the Italian fans, it was only a matter of time before this would be released, or in my case I would have lift off! I was being reserved because I didn't want to block Trudie and Zucchero's view, but that didn't stop my drumming during the first half of the concert! The three American women seated to the right of me, must have thought I was odd, but they seemed fixated on Sting's tight trousers (which apparently have got tighter, according to my sister!) for most of the gig, and screeched out in high pitched (When Harry met Sally type...) scream (there goes my right ear?) when Sting started pointing at me!

There again, I think Jo Lawry is getting younger, (insert, puuuuuurh from Patti) my sister seemed embarrassed when I gave out a loud cheer after Sting mentioned her name, after "Whenever I Say Your Name", you could almost feel Jo blushing at this point, but her vocals were sensational. I'm starting to wonder if any other members of the band were thinking, "It's that fan we met in Newcastle again?"

Anyway, there is only so much of Roger "doing reserved" at a Sting concert before the workout begins. The Italian introductions were confusing me a bit, and "Next To You" seemed to appear earlier than I was expecting, were we one song short? It was probably my imagination, time speeds up when you having this much fun.

I thought at this point, I would just wait to see who is going to be the first person to stand up and start dancing? My sister gave me that look, only a sister can give to her brother, without talking. I knew what she was thinking; you are going to be embarrassing aren't you? I stayed seated! Instead, mad drumming ensued, at this point I saw Dominic had picked up on this and was beaming. This was like a Herculean test for me, can I stayed seated? What do you think!

Sting had now picked up on my drumming and was moving towards the part of the stage in front of me, and I knew what to dot. I jumped out of my seat, and timed my jump with his (like a jack in a box) for the people behind me, it must have looked comical, but I landed well, my integrity intact, the crowd cheering ecstatically. We want more, not an intermission.

Interesting, like at the Edinburgh Playhouse, there were no video screens at the Teatro Verdi, I think sometimes some people don't even notice they are there? I do like the sequences during "Moon over Bourbon Street" and "She's Too Good For Me", anybody think Sting's playing on that instrument he uses in the middle section of the song (I keep forgetting its name?) was played for a shorter time than usual in Florence?

Sting walked off stage and Steven Mercurio was lapping up the praise, at which point I shouted out "Steven", (somewhat loudly, obviously my ears hadn't recovered from deafening girly screams next to me). He turned towards me and did the double handed conductor's style point, straight to me, smiling profusely. Wow, my sister turned to me and said, "He certainly remembers you!"

To rewind slightly, I was lucky enough to chat to Steven (with both UK and Canadian fans) after the concert in Newcastle. He was incredibly generous with his time and we all had the most amazing conversation about the orchestration of the songs, the tour, and his conducting. (Bravo Mercurio!)

I was fascinated when he said, that some purist classical concert goers sometimes think he moves around the stage too much? To which I replied "You should see my dancing!" I was totally approving of his style of conducting, the passion, and his next response, I wasn't expecting? "You were the guy during King of Pain!" Not only had my dancing been noticed, my Pavlovian response to the lyric "There's a little black spot on the sun today", and my singing "That's my soul up there" made Sting chuckle at the Sage, and point at me in Edinburgh. In Florence, I got the feeling he was prepared for it, but I waited until the band sung the line, which seemed a lot louder than normal, before blasting my voice out.

I got the feeling that the majority of the audience were not expecting to hear the arrangement of "This Cowboy Song", which I absolutely love, Dominic is perfecting his line dancing skills, and needs to thank Jo Lawry who has been key (apparently) in arranging and developing the choreography sequence here.

There were some memorable poignant moments in the set including, a very lovely dance routine (very touching and romantic) from a couple, dancing from the side of the stage during the course of "When We Dance", (obviously planned) just trying to work out if they were friends of Sting or famous professional Italian dancers that were guesting. (Lydia I need your help) I was also, incredibly moved, after "Why Should I Cry For You" which was moving beyond words, the audience clapping at the end of the song kept coming, the longest I have ever heard (for this song), the warmth of the clapping and the reaction from audience was magical. Sting was visibly moved by this, the appreciation would have continued for even longer, if Sting had not signalled to the audience to stop! (I did have a lump in my throat, and was starting to well-up).

Sting's vocal during "Tomorrow We'll See" had a clarity and presence that had everybody gasping at the quality on show here. I'm sure Lydia said something at the beginning of the song, during Sting's introduction? The reply was in Italian, so I need a translator. Where did Sting get the inspiration for the song? Did she repeat the immortal Carterism quote "It's those trousers you are wearing?" There were huge gasps from the audience at the beginning of "Roxanne" as well, cue the red lighting.

During "All Would Envy" I couldn't resist (looking behind me, very discreetly) to see Trudie's reaction to the line ending "...beautiful young wife..." - she was beaming contently - a beautiful smile - like we all were.

It was funny during "King of Pain" that Lydia gave me a look, that needed no translating, the visual equivalent to "Roger, what do you think you are doing still in your seat!" Maybe I was being cautious, firm memories of the dance (security) police in Edinburgh. I was waiting for my cue from Dominic, when the guitar solo, let's rip. OK so left hand side of the audience were up before the right, once we were up, we were up!

I didn't look around to see what anybody else was doing; "dance mode" had been activated. No worries about security telling me to sit down, we needed those guys in Edinburgh! From this moment on, you could feel the wave of euphoria from all the audience, suddenly I felt the front row was a little bit more cosy, as the crowd surge (akin to RAH, circa Ten Summoner's Tales days) was being recreated in Teatro Verdi. (Magic!) Italian Love and passion for music is world renowned, just imagine if you could bottle that emotion felt, from that precise moment in time? I was now jumping about, I had to calm down a bit during "Every Breath You Take", were my legs gonna last out? (I had also spent the whole day walking around Florence; it did feel like I had completed the London marathon even before I got to the concert.) What followed was one of the best versions of "Desert Rose" I can remember, the crowd reaction was awesome, the performance spot on. Rhani and Sting congratulated themselves when the song ended. I hope Howard Page was recording the audio! I had a brief chat to him after the concert, "This is what it's meant to sound like" for that special intimate feel, the sound mixing and acoustics were stunning.

I would like to convey my thanks and gratitude to Howard and also Donal for their time in talking to me at various points during the tour. (And Graham RPO tour manager) I do realise having a quick conversation, when everything needs powering down and loaded up is not the best time to talk to FOH and Producer, respectively. Everybody was still standing during "Fragile" and "Alone with my thoughts this evening", which I was, the emotions nearly got the better of me during the line "I walked on the banks of Tyne", incredibly whilst walking in Newcastle (with my Canadian friends), we had a chance meeting with Sting, whilst we were about to cross the Millennium bridge, I can now tell Sting, I have found my home! Now that's what I call Synchronicity, and Symphonicity! To Sting, Steven Mercurio, all the band, Orchestra and all the crew, fan club, and sting.com members, I salute you all, Bravo!

Cheers!
Roger

For Roger's earelier report from this summer check out It's summer, Sting is performing in Canada, which can only mean that überfan Roger Puplett is on his adventures again...