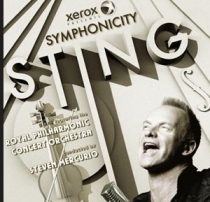 New Performance in Chile confirmed Festival Internacional de la Cancion de Viña del Mar - Friday, February 25, 2011.

Tickets on sale Thursday, December 16 - 9:00 am (local)

Confirmed today, Sting's Symphonicity tour, featuring his greatest hits re-imagined for symphonic arrangement, will appear at the Viña del Mar Festival in Chile on Friday, February 25.

Considered one of the most important musical events in Latin America, this festival has been held annually since 1960 and features song competitions in two categories (pop and folk), plus performances by renowned International artists.

Sting's performance on Friday, February 25th marks his second appearance at the festival where he previously performed in 1982 with The Police.

Tickets for the Sting Symphonicity concert, featuring an orchestra, conducted by Steven Mercurio will go on sale Thursday, December 16th at 9:00 am. Tickets for all festival dates range from $27.50 through $290.40 USD and will be available at the following ticket outlets and locations:

Puntoticket www.puntoticket.cl Call Center - 600 462 6000 From Mobiles - 02 927 1800 From Outside Chile - +56 2 927 1800

Members of the Sting fan club will have the opportunity to purchase tickets beginning Thursday, December 16th at 10am (local) through Tuesday, December 21st at noon (local).

For complete tour and ticket information, visit: www.sting.com.